The Engineering & Computer Science Research Internship Program is a six-week non-residential summer research internship program for rising 12th grade high school students.  Through the program we aim to positively impact talented young students from Syracuse and Central New York – and in many cases, significantly change the trajectory of their lives toward a successful future in an engineering, computer science or related STEM Field.  Our goal is to give these students the chance to become the innovators, educators, researchers and leaders who will solve the most pressing problems facing our nation and our world.
Please note that interns are selected through a competitive application process.  Approximately 10% of students who apply are accepted into the program.  Applications are due April 20, 2020.
Research internship applicants must meet the following eligibility requirements:
Attend high school in the Central New York area and be on track to graduate high school in May/June of 2021
A minimum average grade of 90 on a scale of 100 (GPA of 3.7 on a 4.0 scale) with an interest in engineering and/or computer science
At the conclusion of junior year the applicant should have had 3 years of Math with a minimum of Algebra II/Trig and 3 years of Science with a minimum of Biology and Chemistry
Have access to transportation to and from campus during the internship term (this is a non-residential program)
Commitment to work 25 hours/week for the 6 weeks of the program (program runs from June 29 through August 7, 2020)
Applications are Due, Monday, April 20, 2020 and consist of:
The On-line application is now available for summer 2020.  Please read over or print the entire application before entering your information.  If you leave your application before completing it, the fields you entered before submitting the completed application, will be lost.  The application must be completed on-line.  Applications must be submitted by the end of the day, Monday, April 20, 2020.
A request to prioritize the Research Area of Interest.  In the on-line application you will be asked to prioritize the research areas from 1 to 5.  One being the area that most interests you and 5 being the area of least interest.  The research areas are described below.
Your Transcript & Current Year Grade Report must be sent to Summer Research Internship Program,  Attention:  Kate Pynn, Director of Student Programs, 121 Link Hall,  Syracuse University College of Engineering & Computer Science, Syracuse, NY 13244 or scanned and e-mailed to ecsintern@syr.edu.  The Transcript & Current Year Grade Report must be received by April 20, 2020.
Two letters of recommendation on school letterhead from a math, science, engineering and/or a computer science teacher or a high school counselor. Information for your references can be printed and given out to your references.  Recommendation letters must be received by 5 pm Monday, April 27, 2020 and be sent to:  Summer Research Internship Program,  Attention:  Kate Pynn, 121 Link Hall, Syracuse University College of Engineering & Computer Science, Syracuse, NY 13244 or be scanned and e-mailed to ecsintern@syr.edu
Summer 2020 Research Areas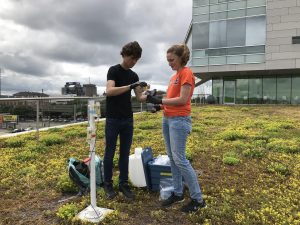 Civil and Environmental Engineering
Whether your interests lie in developing modern sustainability solutions, addressing aging infrastructure, tackling complex environmental challenges or developing public policy, civil and environmental engineering can help you play a role in shaping the future.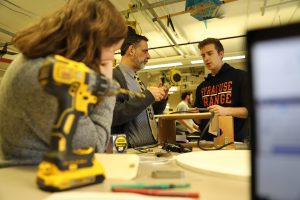 Mechanical and Aerospace Engineering 
With fields ranging from energy systems, fluid dynamics, robotics and optimizing product design, research in mechanical or aerospace engineering prepares students to become leaders in a wide range of thriving industries.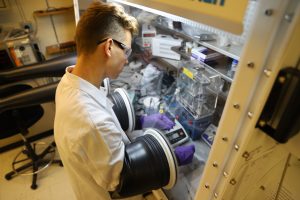 Bioengineering and Chemical Engineering 
Biomedical and chemical engineering research can include innovations in medicine, healthcare, renewable energy, new power sources and sustainable energy practices.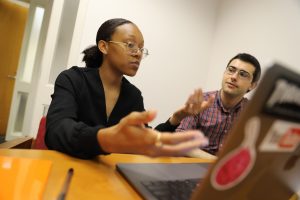 Computer Engineering and Computer Science 
Research in this area could involve data science, cybersecurity, artificial intelligence, network infrastructure and data management.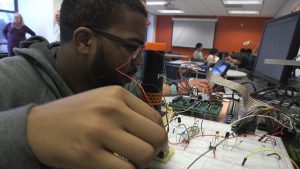 Electrical Engineering 
Research could involve wireless networks,  power grid infrastructure, intelligent sensing and control architecture, smart grids, signal processing and electromagnetic theory.